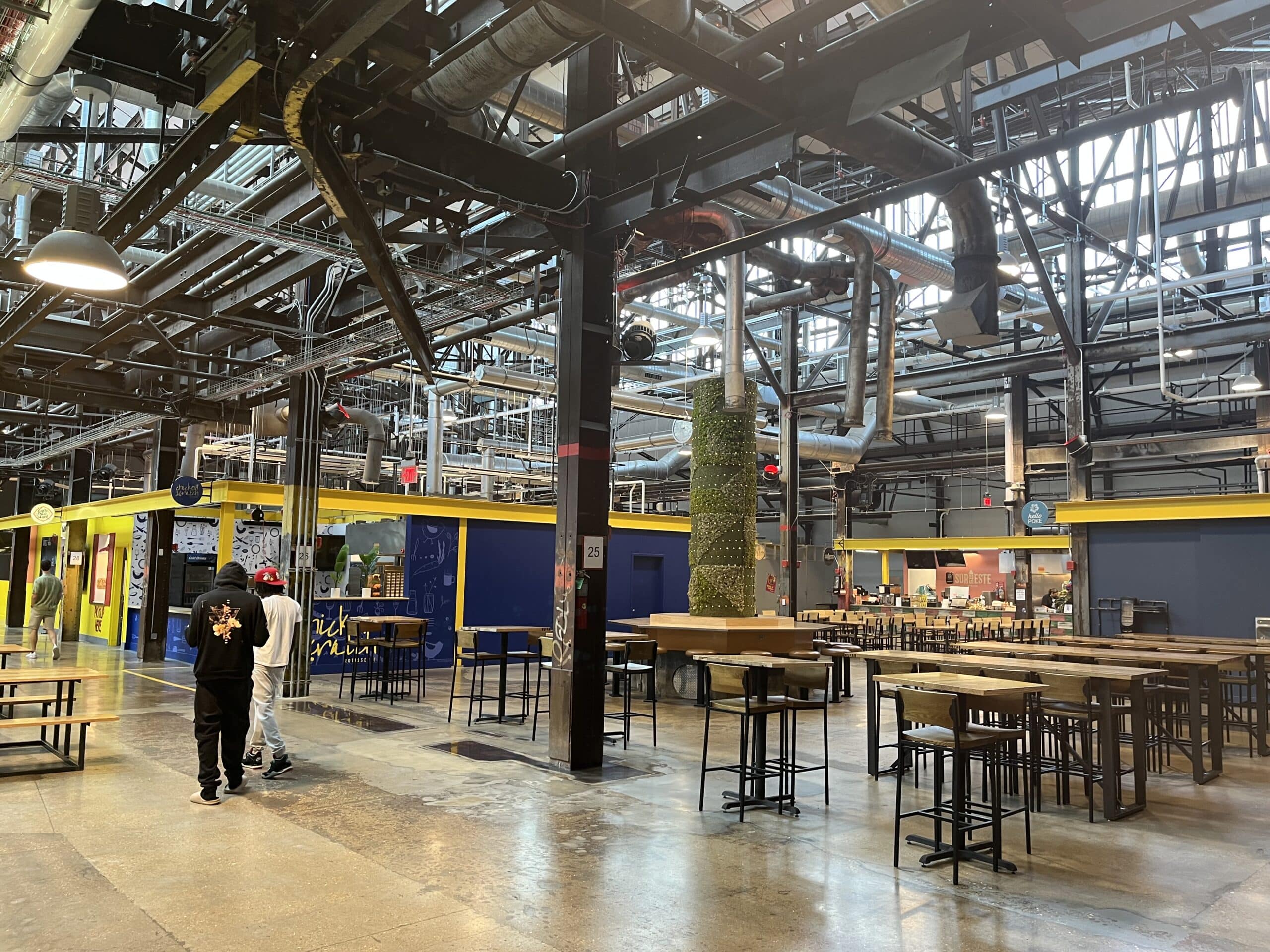 City Foundry STL is St. Louis' first food hall that is open with great restaurants, live music, and events.
City Foundry STL is a multi-million dollar renovation that is located in Midtown.  The developer and architect had a fabulous vision to recreate what was once an embarrassment to the city into a potential hotspot of food, retail, office space, and more.  So naturally, we love the project, but we will focus our attention on restaurant-related tenants.
The City Foundry is an estimated 15-acre development/renovation site costing $300 Million.  The development is by Lawerence Group and Steve Smith, CEO.
The facility was operated until 2007 by Century Electric Company, which was a top manufacturer 100 years ago but closed in 2007.
The development is broken into four phases:
Phase One – Renovation of the foundry, create the Food Hall and a parking garage.
Phase Two – 24-story apartment building
Phase Three – Two multi-story buildings for office, commercial
Phase Four – Additional parking
Funding for the project came from tax incentives as well as private companies.  Bull Moose Industries, located in Chesterfield, MO, and Capstone Holding, located in Bonita Springs, FL.
It is an interesting project that we are closely monitoring for its contribution to its food and entertainment and the historical significance that it is making to the community.
Restaurants located in the Food Hall @ City Foundry are:
18Rails – The Venue @ City Foundry STL
Alamo Drafthouse Cinema
Buenos Aires Cafe
City Winery
Chez Ali
Chicken Scratch Rotisserie
Fassler Hall
Fresh Thyme Market
Good Day
Hello Poke
iSee Store Innovations
Kalbi Taco Shack
Kitchen Bar – Operated by Niche Food Group
Patty's Cheesecakes
Poptimism STL
Press Waffle Co.
Subdivision Sandwich Co.
Sur Este
Turmeric Street Style
City Foundry business hours:
Please Note:  business hours are subject to change without notice.  Please refer to the City Foundry STL website for the latest updates.
Sunday – 9:00 am – 8:00 pm
Monday – 10:00 am – 9:00 pm
Tuesday – 10:00 am – 9:00 pm
Wednesday – 10:00 am – 9:00 pm
Thursday – 10:00 am – 9:00 pm
Friday – 10:00 am – 10:00 pm
Saturday – 9:00 am – 10:00 pm
City Foundry STL address:
3730 Foundry Way
St. Louis, Missouri 63110
NOTE: The information contained within this listing is subject to change without notice.  Contact the facility to verify critical information.
Links: