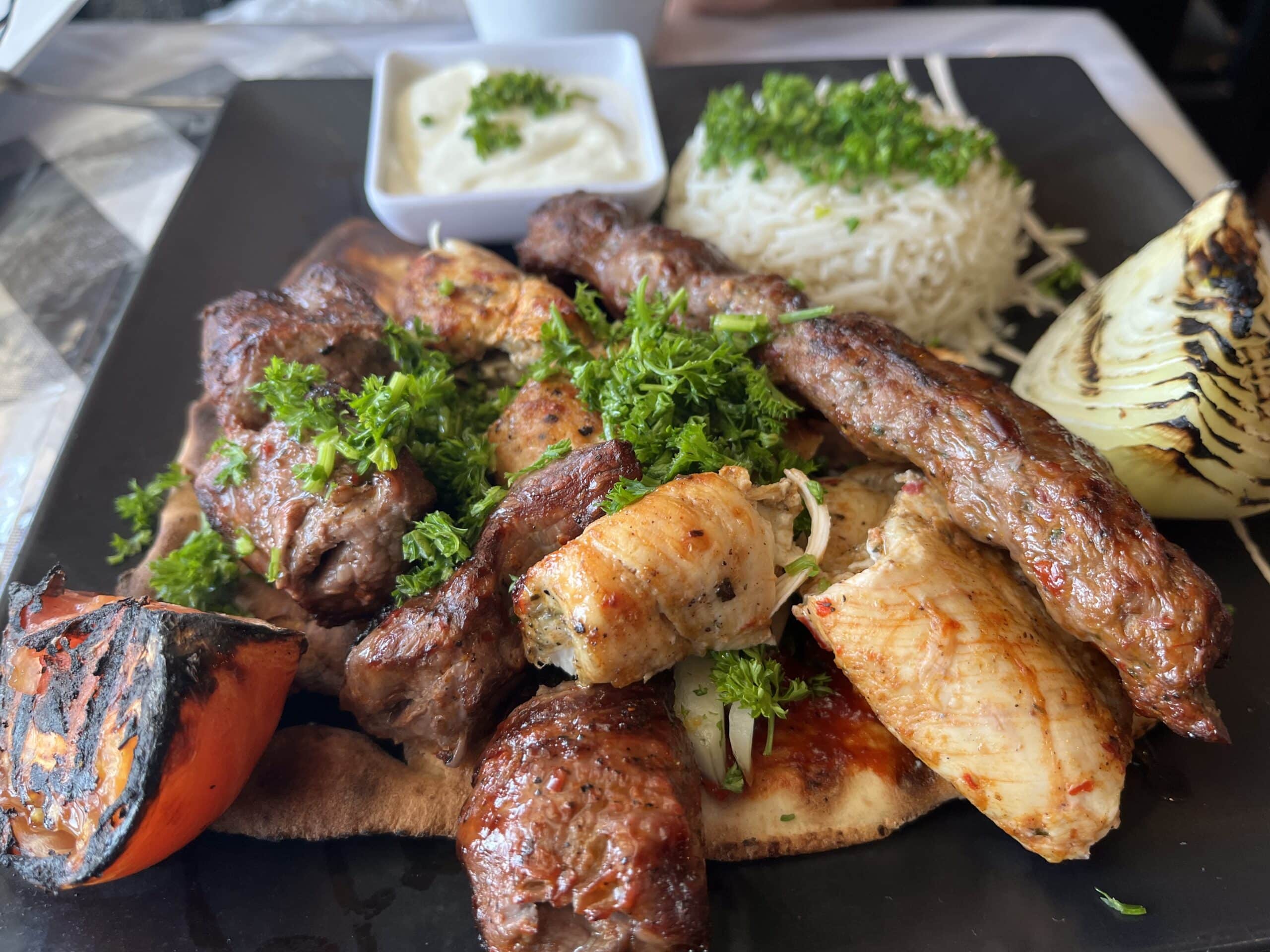 Rozanna Mediterranean Restaurant is a Mediterranean restaurant in Manchester, Missouri, with high online customer reviews.
Rozanna Mediterranean Restaurant is among the highest-rated restaurants in the St. Louis region.  We are not familiar with this establishment, but we will be soon.  We are impressed with its online reviews and the entertainment offered occasionally.  Therefore, this listing will be a work in progress.
Update: we have gotten acquainted with the owners and eaten their cuisine two times now, and we have published a restaurant review that has an interesting story about the owners.  This is one of our favorite restaurants in the region.  The online reviews are spot-on!  Yelp's rating appears low, but Yelp always has the lowest rating due to its audience.
The dining area has a relaxing atmosphere and is stylish, making it an easy place to enjoy friends and family enjoying award-winning cuisine.  The service is excellent, and the facility is clean, with health inspections scores ranging from 90% to 99%
We highly recommend this place, but we encourage you to read the review to know the story of how this establishment started and continues to flourish.
Rozanna Mediterranean Restaurant's online reviews as of March 7, 2023, are as follows:
Google – 4.8 Stars with more than 470 online reviews
Facebook – not rated, but has 1.3K likes – 1.4K followers
Yelp – 4.5 Stars with more than 100 online reviews
TripAdvisor – 5 Stars with 5 reviews
DoorDash – 4.7 Stars with 89 votes
Average Rating – 4.75 across four platforms
Rozanna Mediterranean Restaurant business hours:
Sunday – 11 am – 4 pm
Monday – 11 am – 9 pm
Tuesday – CLOSED
Wednesday – 11 am – 9 pm
Thursday – 11 am – 10 pm
Friday – 11 am – 10 pm
Saturday – 11 am – 10 pm
In The News
Address, phone, email, and web address:
403 Lafayette Center
Manchester, Missouri 63011
Phone: +1 636-527-4000
Email: RozannaSTL@gmail.com
Website domain: RozannaSTL.com
Restaurant Owner (s):
Ilham Abdulnour Bitar
Zeina Bittar
Links: