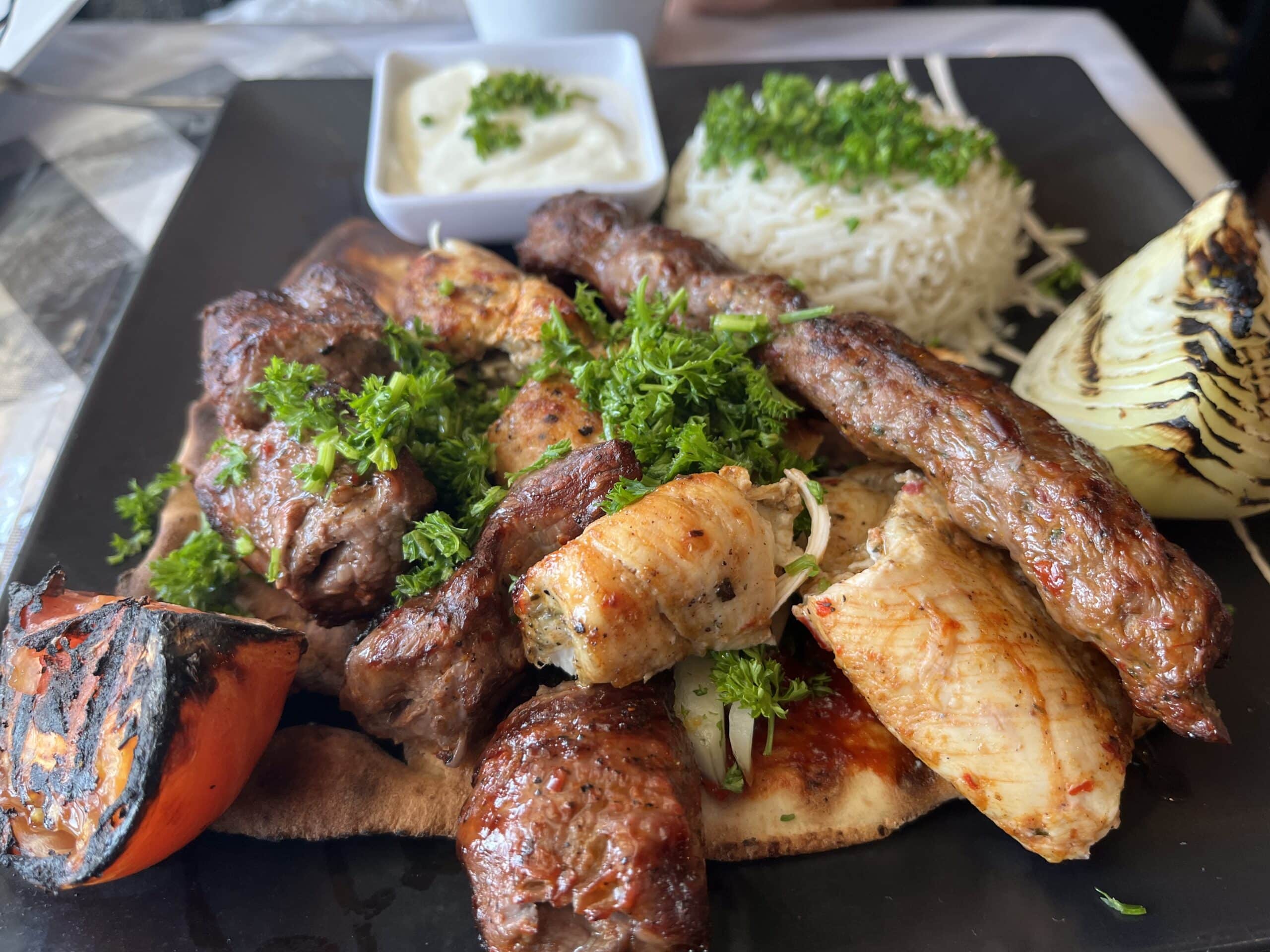 Two women from Syria came to the U.S. sharing the same vision before they met, which has become a successful partnership, and that vision is now known as Rozanna Mediterranean Restaurant in Ballwin, Missouri.
BALLWIN, MO (StLouisRestaurantReview) The best part of our job is meeting and interviewing a large variety of restaurant owners.
Rozanna Mediterranean Restaurant has two owners, Ilham Abdulnour Bitar and Zeina Bittar, who are both from Syria.
These two restaurant owners have one of the most interesting stories.
Both love cooking and entertaining guests, so they split their duties to make managing a restaurant easier.  You can see the high respect that each illustrates towards the other.
Their friendship and partnership have an exciting story behind them.  Both are from Syria but did not know each other before arriving in the U.S. Both married doctors with the same last name and ended up living in St. Louis.  They became friends and now co-own this restaurant together.
It is a cozy restaurant, which makes it easy to enjoy a casual evening with friends and families enjoying the Mediterranean hospitality and the traditional flavors of Middle Eastern cuisine with a variety of delicious dishes from a large selection of hot and cold Meza to seafood combined with a pristine Arabian setting.
The Middle Eastern and Mediterranean cuisines include Syrian and Lebanese dishes like:
Fattoush
Tabbouleh
Kibbeh
Shawarma
Additionally, they have menu items that are perfect for vegetarians.
Their friendship, dreams, and creativity have created a synergy that works well, as proven by their online reviews.
While the food tastes fantastic, the presentation is the best feature.  It is a beautiful display and thoroughly thought out in advance, including their catering displays.
All visitors are served a complimentary bread appetizer featuring pita bread accompanied by three dips, including beet-tahini dip, black bean dip with olive oil, and garlic mashed potatoes.
Rozanna's online reviews as of March 7, 2023, are as follows:
Google – 4.8 Stars with more than 470 online reviews
Facebook – not rated, but has 1.3K likes – 1.4K followers
Yelp – 4.5 Stars with more than 100 online reviews
TripAdvisor – 5 Stars with 5 reviews
DoorDash – 4.7 Stars with 89 votes
Average Rating – 4.75 across four platforms (Facebook not included in average)
They offer:
Dine in
Carry out
Online Ordering (third-party providers)
Patio for outdoor dining
Bar area
Catering
Special Events
Breakfast on weekends
Unlike most restaurant owners, they don't have visions for multiple restaurants, but maybe a bigger facility to host more customers and larger events.
However, the existing location is charming, warm, and comfortable. Furthermore, the online reviews are high, illustrating the quality of the cuisine and service.  Lastly, the owners are lovely, gracious and appreciate the support of their customers.  They work hard and cooperate with each other and the staff to ensure high customer satisfaction.
We encourage you to view the most comprehensive library of information regarding this restaurant at St. Louis Restaurant Review.  CLICK to view their business listing, which includes links to all news, business hours, and an overview of the business.
Rozanna Mediterranean Restaurant business hours:
Sunday – 11 am – 4 pm
Monday – 11 am – 9 pm
Tuesday – CLOSED
Wednesday – 11 am – 9 pm
Thursday – 11 am – 10 pm
Friday – 11 am – 10 pm
Saturday – 11 am – 10 pm
Address, phone, and email:
403 Lafayette Center
Manchester, Missouri 63011
Phone: (636) 527-4000
Email: RozannaSTL@gmail.com
Links: