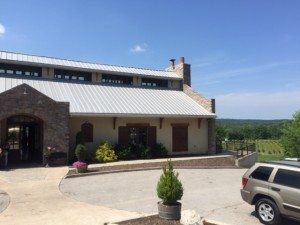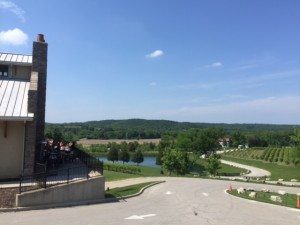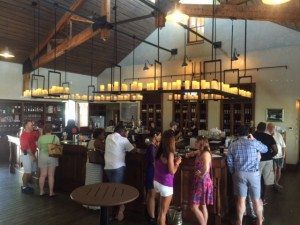 Normally, we publish reviews about restaurants in the St Louis metro area, as our name suggests.  However, Chandler Hill Vineyard is only 20 minutes west of Chesterfield Valley on Hwy 94, making it the perfect get-away without driving an hour or more to other Missouri wineries. Chandler Hill is recognized as one of the region's most exquisite wineries for its superb vintages, outstanding cuisines, and rich history.  They offer various cuisines that are prepared fresh using ingredients sourced locally or, even better, grown onsite.
My first visit was Saturday afternoon, June 6, 2015.  It was one of my most enjoyable experiences.  A great company is always essential, but the atmosphere, wine, food, and view topped the best of times.  As we entered Chandler Hill Vineyards, we saw lush fields of Vignoles, Norton, and Chambourcin grapes growing on sunny slopes.  Additionally, Chandler offers an enticing selection of wines, including Rose' Vidal Blanc, special blends, and their enticing port crafted to be the very best in the region.
Whether you enjoy west coast or Missouri-based wines, Chandler Hill Vineyards has something for pretty much everybody.  The atmosphere might take you out of Missouri, possibly into Napa Valley, or some have even compared the view to northern Italy.  Either way, you decide to look at it; they have created a unique atmosphere that will entice you to become a Chandler Hill Vineyards wine connoisseur and frequent visitor.
The essence of Chandler Hill is understated elegance.  From the tasting room to their 5,000 square foot deck overlooking their vineyards, spring-fed lake, rolling hills, and the inspiring Osage Valley teeming with Wildlife, Chandler Hill is an enchanting year-round destination unlike any other.  While they are located in Missouri, you'll feel much further away.
We recommend that you experience it for yourself.  Visit and sip their outstanding Missouri and California wines and enjoy delicious meats, cheeses and sandwiches or shopping for enticing gifts.  For a relaxing afternoon, private parties, or corporate events, it's all just a few minutes away.
They offer lunch and dinner.  Their lunch menu ranges from $6.50 to $14.00, and their dinner menu ranges from $4.50 to $18.00 for their Flat Iron Steak.  Not bad.  It is a small menu; however, they appear to offer something for everybody.
Our experience was memorable; we will return.  It was a perfect afternoon, with the perfect company, music, and atmosphere.  Our visit was unannounced.  The quality of their music is high as Encore Band entertained us.  You see them entertaining at many popular places around the St Louis metro area.  If you enjoy a great selection of quality music, we also recommend that you visit wherever Encore Band plays to enjoy their performance.
St Louis Restaurant Review is pleased to award Chandler Hill Vineyard with a 4.5 Star Rating.
Others appear to agree with us as Google+ rates it a 4.1 Star, Facebook 4.5 Star, Yelp 4 Star, and TripAdvisor a 4 Star.  They have more than 1,000 followers on Twitter.  Reviews appear to be consistent across the board, supporting our enthusiasm and recommendation of Chandler Hill Vineyard.
Chandler Hill Vineyard Hours:
Winery Hours          Restaurant Hours
Monday: 11-5          11-4
Tuesday: 11-5          11-4
Wednesday: 11-9          11-8         
Thursday: 11-9          11-8
Friday: 11-5*          11-4
Saturday: 11-5*          11-4
Sunday:  11-5          11-4
*Hours Are Event Dependent. Be sure to check our events page to see if private events are scheduled.
Open late for special events and private parties. Please NO outside food or beverages.
DISTRIBUTION CHANNELS
Our review was distributed to the following publications – View More
The Review was also posted to our Facebook page.
Our review was published through Restaurant News – Chandler Hill Vineyard Press Release.
It was also distributed using Restaurant News Release – Chandler Hill Vineyard Press Release.
Our review was also published in Restaurant Magazine – Article
For additional information, please call Chandler Hill Vineyard @ (636) 798-2675.