Billy's on Broadway Restaurant Opened on June 23rd, 2023 – Billy's on Broadway is a new restaurant/bar in an architectural facility that has created a destination rather than a restaurant or bar.
ST LOUIS, MO (StLouisRestaurantReview) What was once an abandoned building (since 2019) for approximately four years has been recreated with a new modern vision but recaptures the historical feel that blesses the community but frequently goes overlooked.
It requires vision, courage, experience, and a lot of money to step out of the box to do what these partners have done.  They have saved a piece of history to a building that dates back to at least 1890 but recreated it to provide modern conveniences in the historical, sporty, classy style that most competitors can only dream of.
There was consideration for demolition of the building, but they made the right decision to restore and recreate a bar dating back to its beginning based on the information they have found.
An architectural publication should be writing about this place rather than food magazines because the results of the renovation and expansion are overwhelmingly impressive and done professionally.  This project was not created on a small budget.  The renovation cost will not be disclosed, but they spared no expense to do the project and do it right.
This establishment is not just a bar/restaurant but a destination like Brett Hull's Junction House in Wentzville or Ballpark Village.  Ballpark Village is the largest, but only Billy's on Broadway and Brett Hull's can be classified as these places.
We had the honor to meet with Billy Roe, one of the partners, and the name on the front of the building.  The other two partners are David and Brett Apted.
There are multiple bars inside and outside, with a seating capacity of approximately 400 patrons in this historical atmosphere spreading across 6,000 square feet.  One of the bars is a rooftop bar with a beautiful panoramic view of the Cardinals Stadium and an elevated view of the stage that their entertainers will use.
The main bar at the front of the building is the original bar that dates back to 1890 that they restored, which turned out to be beautiful.
While they sincerely desire to create a great bar and restaurant establishment, the most impressive emotion I witnessed was Mr. Roes's love and passion for the facility.  The owners get that they are doing more than starting a new business. They are leveraging a piece of history to amplify their business model and illustrate an unprecedented amount of ownership pride while preserving some history.  Old buildings are often demolished and forgotten because the idea that a new building is cheaper is only easier.  It requires a lot of thought and planning to preserve, but it is only sometimes the most cost-effective.  Moreover, it is impossible to re-create history in a new facility. It's just not possible!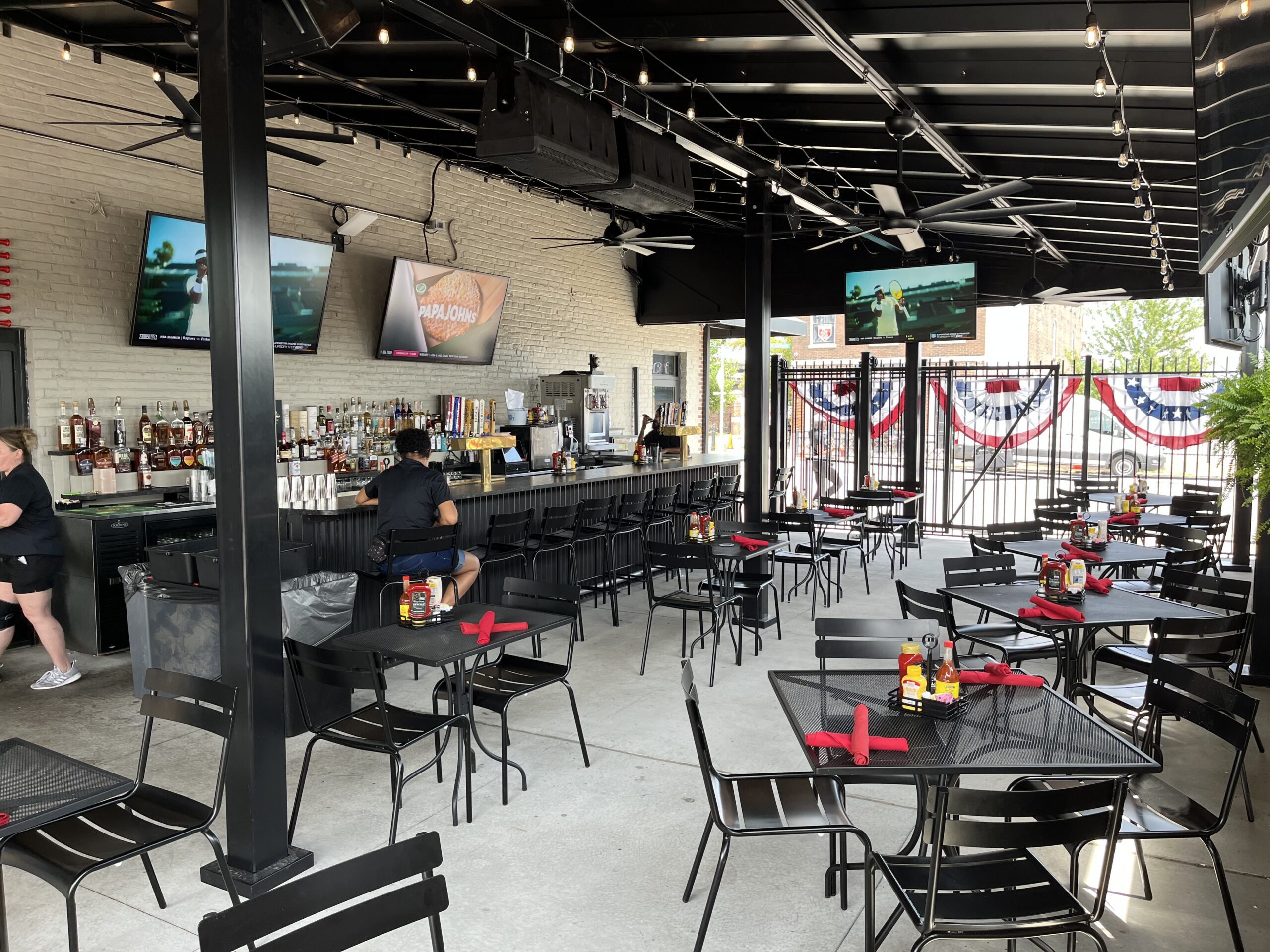 It is located one block south of the Cardinals Stadium and across the street from Broadway Oyster Bar, which was a smart move.
Considering the location, the history of the building, the menu, the food, and the business model they are creating, this will be one of the most successful restaurant/bar ventures launched in the St. Louis region.  It is a restaurant, bar, music, and entertainment venue in the perfect location with an excellent view in a historical environment that will become a primary destination in the region.
We can't express our sincere appreciation for the opportunity to meet with Mr. Roe and get the information he graciously shared with us.  Truthfully, the amount of information goes beyond the scope of an article, and we hope this is the beginning of what needs to be a series of articles to project the image this place and these investors deserve.  We recommend and will support this establishment to help ensure its success.
They opened on June 23, 2023, so many revisions and decisions are still being made.
Billy's on Broadway menu features upscale bar food, including:
Appetizers
Flatbreads
Sandwiches
Smash Burgers
Bologna Sandwich using Piekutowski's Bologna from North City
Vitale's Bread
Red Hot Riplets
Kids Menu
Routine revisions, additions, and removals
To summarize our article, Billy's on Broadway offers:
Dine-in
Live Music – check the calendar or Instagram page
Multiple Bars indoors and outdoors
16 Beers on Tap from Local Breweries
Frozen Drink Machines
Specialty Summer Drinks
Bar food made by experienced cooks and chefs using the best ingredients
Toasted Ravioli from Midwest Pasta Company
Bread from Vitale's Bakery
Ice Cream from Clementine's
Banquet Room
Catering
Great Food – Great Service – Great Historical Atmosphere
Billy's on Broadway online reviews as of July 21, 2023, is as follows:
Google – 5 Stars with 25 online customer reviews
Facebook – not yet rated – 815 likes – 1.1K followers
Yelp – 5 Stars with four reviews
The team that is heading this destination is as follows:
Billy Roe – Partner and Name on Sign
David and Brett Apted – Partners
General Manager – Chris Lauschke
Chef – Jillian Sole, formerly of Salt + Smoke BBQ
Billy's on Broadway business hours:
Sunday – 10 am – 1 am
Monday – 10 am – 1 am
Tuesday – 10 am – 1 am
Wednesday – 10 am – 1 am
Thursday – 10 am – 1 am
Friday – 10 am – 1 am
Saturday – 10 am – 1 am
Billy's on Broadway – In the News
The construction company Garcia Construction did the work, which appears to be top-quality, and they completed it ahead of schedule.   They can be contacted at 3537 S Kingshighway Blvd, St. Louis, MO 63139 – Phone: +1 314-353-0336 – Email: info@garciaconstruction.com.
Billy's on Broadway address, phone:
701 South Broadway
St. Louis, Missouri 63102
Phone: +1 314-279-9963
Website: https://www.billysonbroadway.com/
Email: Manager@BillysonBroadway.com
Links: